Emergency Dentistry – Auburn, ME
We See Dental Emergencies Fast
At Willow Run Dental Association, we understand that dental emergencies demand attention at a moment's notice, not just when it's convenient. Whether you're experiencing severe facial trauma or a sudden pain within the mouth, our team is ready to accommodate you as soon as possible here in Auburn, ME. We will help you feel at ease, relieve any severe discomfort, and start working on a personalized treatment plan to address damage in the quickest timeframe possible. Don't wait – contact us today.
The major types of dental emergencies are as follows:
I've Injured My Tooth in an Accident
Whether they occur on the sports field or simply while walking to work, physical accidents can result in a wide spectrum of dental emergency situations, including loosened restorations like crowns and bridges, significant enamel fractures, or even fully dislodged teeth. If the entire structure or a significant portion of a tooth has been knocked out, we strongly encourage you to place the piece/pieces in a container of milk to keep them moist. Ideally, a full tooth can also be gently positioned back within its original socket and held in place there until you reach our location. However, keep in mind that there is only a small window for successful reattachment – typically around an hour at best.
Once you arrive here in Auburn for emergency care, our dentists will start by relieving any serious discomfort before determining the best reconstructive solution for your particular symptoms. A new filling or custom-made dental crown may be recommended for partial breakage, while state-of-the-art dental implants can replace wholly dislodged teeth seamlessly.
I Have a Serious Toothache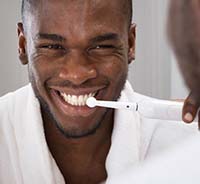 If you are experiencing severe pain and/or sensitivity in a specific area of the mouth, an advanced dental infection is likely the culprit. Alternatively, there may be something stuck between the teeth and gum tissue, such as a stray piece of food. In order to rule out the latter possibility, patients should try flossing and rinsing to dislodge anything that shouldn't be there. If their discomfort continues, it is time to contact Willow Run Dental Association for further assistance. Our dentists may recommend root canal therapy, which will remove diseased pulp and bacteria from within the tooth's natural structure while allowing it to remain a stable, natural part of your smile. However, if the damage that's been done is already too severe, professional extraction may be the only other option. All of the possible treatment paths will be explained clearly and succinctly by our team so that you can feel confident about your final decision.