Invisalign® – Auburn, ME
Discreet and Convenient Orthodontic Treatment
Misaligned teeth pose a threat to your oral health. Not only can they trap food and be a major factor in decay, but they can also interfere with your bite and contribute to TMJ disorder. Plus, crooked teeth are not as attractive as straight ones. Orthodontic care can address all of these issues. At Willow Run Dental Association, we are proud to offer Invisalign® in Auburn. If you are interested in finding out whether this convenient, discreet, and effective treatment is right for you, contact us to schedule your consultation. In the meantime, you can discover more about Invisalign® by reading the information below.
Why Choose Willow Run Dental Association for Invisalign®?
Experienced Dental Team
Discreet Orthodontic Treatment
Flexible Payment Options
How Invisalign® Works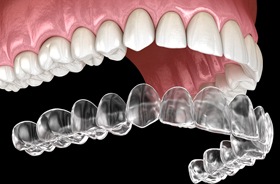 Traditional metal braces work by applying gentle, sustained pressure to the teeth. As the braces get tightened little by little over time, the teeth gradually move into their ideal positions. Invisalign® also applies pressure to the teeth. However, instead of using metal brackets and wires, it uses a series of custom-made, clear aligners. You simply wear each aligner for 20 – 22 hours each day for two weeks before you move onto the next. Once you have worn all the aligners, your teeth should be exactly where they ought to be.
You can get started with Invisalign® by visiting us for a free consultation, wherein we will evaluate your candidacy for Invisalign®, answer all of your questions, and discuss the future course of your treatment. If you decide to move forward, we will take detailed images and impressions of your teeth, which will serve as the basis for designing your custom aligners. Once you begin wearing the aligners, you will need to visit us periodically for brief checkup visits.
Indications for Invisalign®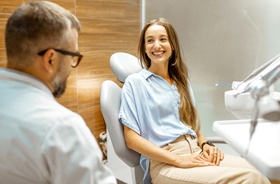 Invisalign® is able to address most mild to moderate orthodontic problems, including malocclusion (bad bite), gapped teeth, rotated teeth, and more. Here is an overview of how it can correct some common issues:
Crowded Teeth
Crowded, overlapping teeth can trap food between them, increasing your risk of decay and gum disease. Invisalign®, often with the help of extractions, can usually shift the teeth so each one has the space it needs to thrive.
Gaps Between Teeth
Extra space between the teeth may leave your gums vulnerable to harm. Plus, many people dislike the look of gapped teeth. Invisalign® may be able to close or reduce those gaps to give you a healthier, more attractive smile.
Bite Alignment
Overbite, underbite, crossbite, and open bite can interfere with your facial aesthetics and dental function. Invisalign, often with the assistance of accessories, can correct many cases of such bite problems.
The Benefits of Invisalign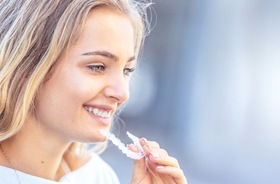 Some of the top benefits of Invisalign® include:
Convenience. Since the aligners are removable, you will not have any dietary restrictions during your treatment. You will also be able to brush and floss your teeth according to your normal routine.
Discretion. The Invisalign® aligners are subtle enough that onlookers are unlikely to notice them at a glance. They will make it easy for you to maintain a professional image.
Comfort. Invisalign® has no metal brackets and wires that might irritate the soft tissues in your mouth.
Fast treatment time. Your exact treatment time will depend on several factors, but on average, Invisalign® takes only about 12 months to accomplish its task.
How Much Does Invisalign® Cost?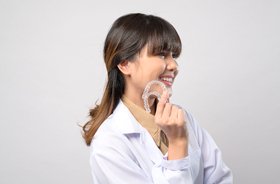 When you visit your dentist in Auburn for a complimentary Invisalign® consultation, we will be able to provide you with a price estimate for your treatment. Most patients spend at least a few thousand dollars for orthodontic care. Your total cost will be based on how many aligners you require and other factors. Our team can help you explore your options for making Invisalign® as affordable as possible, such as insurance and financing.