Family Dentistry – Auburn, ME
Complete Dental Care for the Whole Family
Some dental offices specialize in providing a certain type of service, while others focus on catering to a particular type of patient. At Willow Run Dental Association, our practice has a broader scope. We are proud to serve as a family dentist. We welcome entire households as our patients, and we are glad to serve everyone from little toddlers to Grandma and Grandpa. On this page, you will learn more about what we have to offer as a team of family friendly dental professionals.
Benefits of Seeing a Family Dentist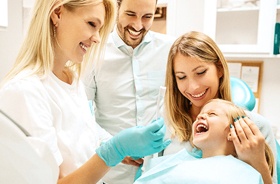 Seeing a family dentist comes with multiple benefits:
No running around town for appointments. We can try to book appointments for your entire family on the same day, around the same time. Therefore, you will not have to run all over town when it is time for your family to have their routine cleanings and checkups.
Form strong relationships. When the same dental team serves your entire family, you will be in a position to form a trusting, long-lasting relationship with the people who care for your oral health.
A wide variety of services under one roof. As a family dentist, we strive to provide a broad range of services that can benefit both children and adults.
Our Comprehensive Services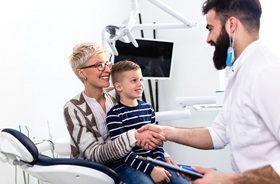 Are you looking for someone to help you maintain your oral health, or do your teeth need some restorative treatment? Whatever the dental needs of you and your family are, you can rely on us to fulfill them.
Preventive Dentistry
Regular preventive care is essential for stopping the development of tooth decay, gum disease, and other oral health problems. We encourage our patients to visit us at least once every six months for a thorough exam and a refreshing cleaning. We offer other preventive services as well, including dental sealants, nightguards for bruxism, and more.
Restorative Solutions
We offer multiple restorative services that can treat many oral health issues. For small cavities, we provide strong and aesthetically pleasing tooth-colored fillings. For more extensive decay, we provide sturdy crowns. If you are missing teeth, we can fill in the gaps with dental implants or non-implant prosthetics.
Cosmetic Smile Makeovers
Our priority is to help our patients achieve and maintain excellent oral health — but we also want you to be happy with the way your smile looks. Whether you want to get rid of stains on your teeth, repair that pesky little chip out of your front tooth, or totally transform your smile, we are ready and able to help you achieve your goals.
Specialty Services
When it comes to our dental services, we go above and beyond the average practice. Our specialty offerings include advanced procedures like wisdom tooth extractions, corrective jaw surgery, and more.
Enjoy State-of-the-Art Care for All Ages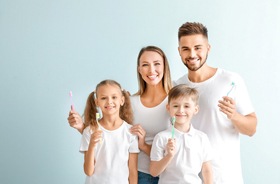 Would you like to learn more about how the team at Willow Run Dental Association can care for the oral health of everyone in your household? Contact us today to ask questions about our practice or to schedule your consultation.