Implant Dentures — Auburn, ME
Sturdy and Long-Lasting Tooth Replacement
According to one estimate, more than 36 million Americans are missing all of their teeth. Many of these individuals have dentures. Although dentures have come a long way in recent decades, they are still not as reliable and comfortable as would be ideal. Is there a better solution? For most people, the answer is yes. Contact Willow Run Dental Association today to learn more about implant dentures in Auburn and how they may be able to provide you with the strong, long-lasting tooth replacement you deserve.
Why Choose Willow Run Dental Association for Implant Dentures?
Start to Finish Dental Implant Treatment
Empathetic and Caring Team
Superior to Traditional Dentures
What Are Implant Dentures?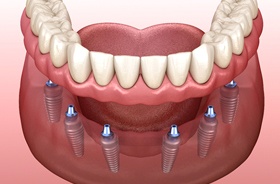 Dental implants in Auburn are prosthetic tooth roots that we insert into the jawbone during a minimally invasive surgery. After they bond with the surrounding tissue, they are able to provide a strong base of support for a denture. Implant dentures are stronger, feel more natural, and last longer than their traditional counterparts (which simply rest on the gums as opposed to being anchored in the bone).
Depending on your unique circumstances, we may recommend that you receive one of the following types of implant dentures:
Fixed/Permanent Implant Dentures
These are permanently attached to the implants that support them; they can only be removed by a dental professional. Many patients enjoy the convenience of always having their teeth in their mouth. It usually takes 4 – 6 dental implants per arch to support this type of restoration.
Removable Implant Dentures
Sometimes called overdentures or "Snap-On" dentures, these are easy for patients to remove on their own. They are held in place via bar-shaped or ball-shaped attachments. They usually require fewer dental implants than permanent implant dentures and may be more suitable for people who have lost some bone density in their jaw.
The Implant Denture Procedure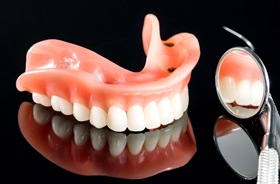 The implant denture procedure usually takes at least several months and requires four main stages of treatment:
Consultation: We will evaluate your candidacy for implant dentures and start to plan your treatment.
Implant placement surgery. As an experienced implant dentist in Auburn, we can perform this complex procedure right here in our office. We strive to make it as comfortable and conservative as possible.
The implants will bond with your jawbone, after which we will place small attachments on them to hold your denture in place.
We will design and place your new set of teeth.
Am I a Candidate for Implant Dentures?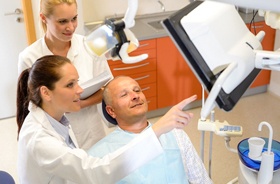 Most adults who have suffered extensive tooth loss are great candidates for implant dentures, either right away or after some preparatory treatments. To qualify for the procedure, you should:
Have adequate bone density in your jaw to support the dental implants.
Be determined to stick to good habits that will help your new teeth stand the test of time.
Be healthy enough to recover from minor surgery.
Be free of significant oral health problems, such as gum disease.
Benefits of Combining Dentures & Dental Implants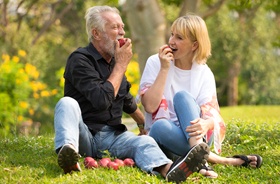 Some of the most remarkable benefits of implant dentures include:
They provide a strong bite force that can stand up to virtually any food, including tough and chewy items.
Dental implants prevent the jawbone deterioration that normally occurs after the loss of natural teeth. This is in contrast to traditional dentures, which may actually accelerate the bone loss.
They look and feel incredibly lifelike.
They are easy to care for. In fact, in many ways, caring for them is similar to caring for natural teeth (especially if you have a permanent implant denture).