Dental Technology – Auburn, ME
Experience Truly Modern Dentistry
The dental field is never at a standstill. Quite the contrary – evolution is happening all the time in the forms of new techniques and tools that elevate patient care. At Willow Run Dental Association, we are determined to stay right at the forefront of these important developments. Our capable dentists regularly utilize state-of-the-art technologies throughout the treatment process, starting with the initial diagnoses. Our goal is to ensure a consistently high level of quality during each and every appointment, as well as improved comfort, efficiency, and accuracy too. If you would like to learn more about these modern touches, contact us in Auburn, ME today.
Digital X-Rays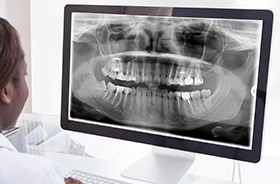 X-rays have come a long way in recent years. The traditional version had to be captured on physical film and then gradually developed in a darkroom over an hours-long process. Today, digital radiography simplifies this process to seconds, as images are captured and made instantly available for viewing without a wait period. Additionally, they're much safer, as radiation exposure is reduced dramatically by up to 80% when compared to what patients could expect with film.
Intraoral Camera
Patients should never be made to feel confused or left in the dark when it comes to their own oral health. At Willow Run Dental Association, we regularly utilize intraoral cameras not only to aid our own diagnostic understanding but for educational purposes as well. This technology will capture high-resolution images of the gum tissue, the teeth, and other important oral structures, instantly transferring them to a monitor in the treatment room. This visual aid will then be used by our dentists and team members as they discuss the findings with you and any specific treatments they recommend.