Dental Implants — Auburn, ME
Seamlessly Rebuild Missing Teeth
Over time, the loss of one or more teeth can negatively affect a person's life in various ways. They may struggle to eat their favorite foods properly, speak confidently, and even smile in photos without worrying about their appearance. At Willow Run Dental Association, we recommend dental implants as a state-of-the-art solution to tooth loss. If you would like to learn how dental implants may be able to benefit you, contact our Auburn, ME, dental office to schedule an initial consultation.
Why Choose Willow Run Dental Association For Dental Implants?
Entire Dental Implant Treatment Completed In-Office
Replace Any Number of Missing Teeth Permanently
Free Dental Implant Consultation & Flexible Financing Available
What Are Dental Implants?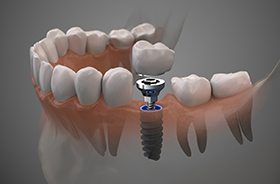 Natural teeth are composed of two parts: the visible crown and the hidden roots underneath. Traditional tooth loss solutions like dentures and dental bridges only replace the crowns of missing teeth. While this does restore some function, they leave a lot to be desired in terms of comfort, freedom, and longevity without a supporting root structure. That is where dental implants come in! They can seamlessly rebuild missing teeth from the roots up for unmatched results.
A dental implant is a small titanium post that replaces the root of a missing tooth. Depending on how many teeth you are missing, we can insert one or more dental implants directly into the jawbone. Thereafter, the dental implant bonds with the bone around it in a process called osseointegration to form a strong, lifelike foundation. After osseointegration, we will top the dental implant with a custom-made crown, bridge, or denture. The end result is a smile that looks, feels, and functions just like natural!
The 4 Step Dental Implant Process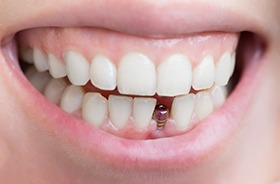 Dental implants take significantly more time to get than traditional dentures or dental bridges, but they are worth it! Many dental practices in our area have to refer patients to an outside specialist for the dental implant placement surgery. However, we are able to perform the entire implant treatment from start to finish right here in our office. Therefore, you will not have to worry about getting to know a new dental team or figuring out another practice's payment policies. After your implants are in place and have fused with the surrounding bone tissue for several months, you will come right back here to receive your final restorations.
Exactly how dental implants work in Auburn varies from case to case, but there are four treatment stages that most patients go through:
Initial Dental Implant Consultation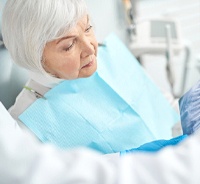 Our team will carefully examine your mouth and learn about your medical history. We may use advanced imaging technology to get a look at your oral structure beneath your gumline. Then, we will be able to determine if you are a candidate for dental implants right away or if you require some preliminary treatments, such as a bone graft or gum disease therapy. Once your mouth is ready to receive the implants, we will proceed with planning the rest of your treatment. Feel free to ask questions during your consultation — we want all of our patients to feel well-informed!
Dental Implant Surgery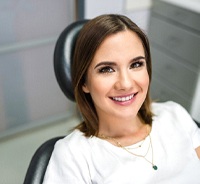 Sometime after your consultation, you will undergo a minimally invasive surgery, wherein small prosthetic tooth roots (the dental implants in Auburn) get inserted into the jawbone at precise, pre-planned positions. During the procedure, an expert creates small incisions in the gums before making space in the bone for the dental implants. After the implants are in place, the incisions are closed. Since we perform this part of the treatment right here in our office, you can enjoy the peace of mind that comes from working with the same team throughout your tooth replacement journey.
Dental Implant Osseointegration & Abutment Placement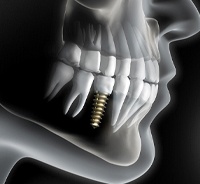 After the placement surgery, osseointegration gets underway. Osseointegration is the biological process that allows your jawbone to fuse with the dental implants. It enables them to act as sturdy, strong prosthetic tooth roots. Osseointegration typically takes at least a few months; the exact timeline will depend on your health and other factors.
Following osseointegration, you may undergo a second minor surgery. Your implants will be exposed, and healing caps will be placed on them. Later, you will receive abutments. Abutments are small connector pieces that keep implant restorations in place. (Some patients receive abutments at the same time as their initial surgery.)
Delivery of Dental Implant Restorations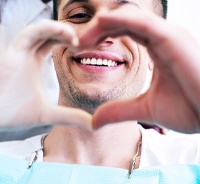 The final part of the process is restoration. Your implant dentist in Auburn will take detailed images and impressions of your mouth, then use those to design a custom crown, bridge, or denture. A laboratory will fabricate the restoration, and when it is ready, you will return to our office. After we verify that its fit and color are up to our high standards, we will secure it in your mouth. Then, you can go off and begin to enjoy all the benefits of your renewed smile!
Benefits of Dental Implants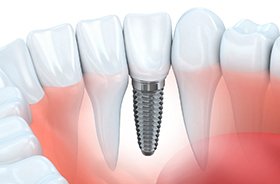 Dental implants are often regarded as the best tooth replacement solution that modern dentistry has to offer. But why is that the case? Read on to discover some of the most outstanding ways in which dental implants can improve a patient's quality of life. When you are ready to schedule your dental implant consultation and learn how this treatment may benefit you personally, contact the team at Willow Run Dental Association.
Look & Feel your Very Best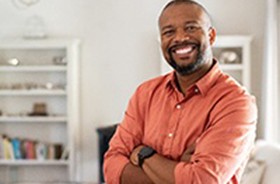 Once dental implants are surgically placed beneath the gumline and restored with a crown, bridge, or denture, they become virtually indistinguishable from natural teeth. The restorations themselves are carefully designed to complement each patient's unique oral anatomy and facial aesthetics. Their color, shape, and size are all chosen with the greatest attention to detail. Dental implants also feel very comfortable in the mouth. You may even feel like you have your natural teeth back!
Eat All Your Favorite Foods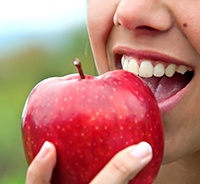 Some traditional types of tooth replacement require that you be extra careful when you eat certain foods. You might even have to avoid some foods altogether. That is because there is a risk that the prosthetic will slip out of place or become destabilized. However, because dental implants are anchored in the jawbone, they are extremely sturdy. You will not have to take special precautions when you are enjoying your favorite foods, whether you are munching on a crisp apple, indulging in a juicy steak, or snacking on popcorn during your family's movie night.
Speak, Chew, and Smile with Confidence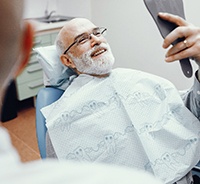 Traditional dentures may slip out of place during eating and speaking, particularly if they do not fit well. The fit of your dental implants will never change; that is because they bond with the bone around them and act as substitutes for the roots of lost teeth. As long as you take good care of your implants, you can expect them to provide you with decades of confidence when you are speaking, laughing, eating, and smiling.
Keep a Healthy Smile for Life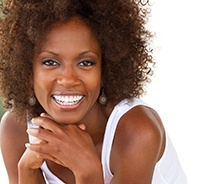 Dental implants are designed to last a lifetime. If you care for them well through excellent oral hygiene and routine dental appointments, it is very likely that they will never disappoint you. The longevity of dental implants may even make them a better financial value than tooth replacement options that have to be replaced every 5 – 10 years or so.
Easily Clean Your New Smile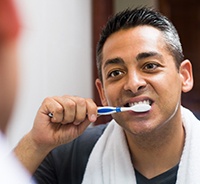 Caring for dental implants is easy. In fact, you can treat them in almost the same way as you would treat your natural teeth. It is important to brush twice a day with a soft-bristled brush and low-abrasive toothpaste, floss once a day, and attend regular checkups with your dentist. Depending on the type of prosthetic you have, you may have to take a few additional steps to care for your new teeth, but you can still expect it to be easy to adapt to your routine of maintaining your implants and their restorations.
Who Dental Implants Can Help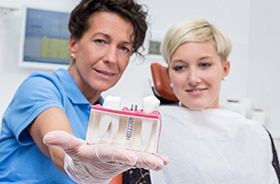 Dental implants in Auburn are a versatile treatment that is capable of addressing any level of tooth loss. Whether you are missing one tooth, a few teeth, or even all of your teeth, they may be ideal for you. When you visit us for your consultation, our team will carefully evaluate your oral health and determine whether you are a candidate for them (most people are). Then, we will design your personalized treatment plan and determine which type of restoration will be serve your needs.
Who Is a Good Candidate for Dental Implants?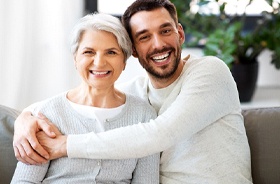 The vast majority of adults with missing teeth qualify for dental implants, either right away or after they complete some preliminary treatments. Before your dental implant dentist in Auburn is able to approve you for the procedure, you may need to meet the following criteria:
Fair overall health. Conditions like uncontrolled diabetes and severe immune disorders might interfere with your ability to heal after surgery, so you should be doing your best to manage your systemic wellness.
Good oral health. Gum disease increases the risk of dental implant failure. Some patients need gum disease therapy before they are able to replace their missing teeth.
A strong jawbone. Your jawbone must be thick enough and strong enough to support dental implants. If it is not currently strong enough, it may become so after a bone graft.
Good habits. Avoiding tobacco and sticking to an excellent oral hygiene routine increases the chances that your dental implants will thrive.
Missing 1 Tooth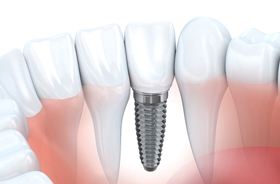 If you are missing just one tooth, we will likely insert just one dental implant into your jawbone. Later, after it bonds with the surrounding bone, we will restore it with a custom crown. This solution is superior to a traditional bridge because it does not usually require that any of the nearby teeth be modified. Plus, because dental implants mimic the structure of natural teeth, they feel and function almost exactly like the real thing. You might even forget that your implant is there!
Missing Multiple Teeth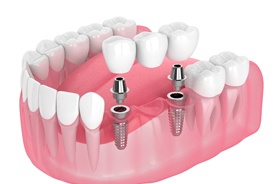 If you have two missing teeth in a row, you might need just one dental implant, along with a two-unit bridge, to fill in the gap. If you have three or more missing teeth in a row, we may place one implant at each end of the gap in order to support a multi-unit bridge.
What if your missing teeth are not consecutive? You might qualify for multiple single-tooth implants. Or we may determine that a partial denture is right for you. A partial denture can replace multiple teeth at different places throughout an arch with the support of as few dental implants as possible.
Missing All Teeth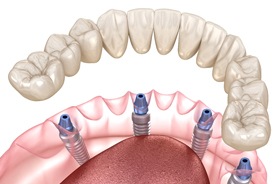 Patients who have lost all of their teeth throughout an arch usually qualify for implant dentures. There are different types of implant dentures, including removable ones that simply "snap" into place and ones that are permanently fixed in the mouth. You might need as few as two dental implants or as many as 4 – 6 or more per arch. We will carefully evaluate your needs and consider your preferences before we recommend the type of restoration that we believe is best for you.
Understanding the Cost of Dental Implants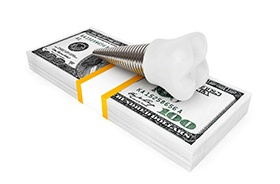 The cost of dental implants varies from patient to patient and depends on various factors, such as the number of implants needed and the nature of the restoration(s). When you visit us for your consultation, we will provide you with a personalized estimate for the cost of your treatment. We will also help you explore options for fitting your restored teeth into your budget. Although dental implants present a significant cost, they are a worthwhile investment that could provide you with a lifetime of sound oral health.