All-on-4 — Auburn, ME
Rebuild Your Smile in a Single Day
Dental implants are substitute tooth roots — but that does not mean you need a dental implant for every lost tooth. In fact, using All-on-4 in Auburn, we may be able to rebuild an entire arch of lost teeth with just four dental implants. We can even provide you with a temporary denture on the same day as your implant placement surgery! To learn more about this innovative and streamlined procedure, get in touch with the knowledgeable team at Willow Run Dental today. We look forward to serving you!
Why Choose Willow Run Dental Association for All-on-4?
Get Started with a FREE Consultation
Experienced and Friendly Team
Streamlined Treatment
How Do All-on-4 Implants Work?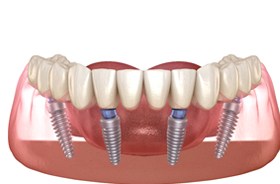 It is possible to replace a full arch of teeth with just four dental implants thanks to a strategic implant placement strategy. Two of the implants go toward the front of the jaw, and two go toward the back of the jaw at an angle. By placing them where the bone is naturally strong and thick, we can often avoid the need for a bone graft and place a provisional (temporary) denture on them right away. After your soft tissue and bone have had a chance to heal (which may take several months), you will receive a permanent denture.
Am I a Candidate for All-on-4 Implants?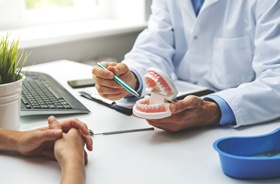 All-on-4 dental implants in Auburn may be ideal for you if:
You have lost all or most of your teeth throughout a dental arch.
You have adequate bone density to support dental implants. Most patients meet this criterion even without a bone graft.
You are determined to stick to good habits. For example, you should have an excellent oral hygiene routine.
Our team will be happy to evaluate your candidacy and let you know whether All-on-4 is a fit for your circumstances. Most patients do qualify for it, either right away or after some preparatory procedures.
What Are the Benefits of All-on-4 Implants?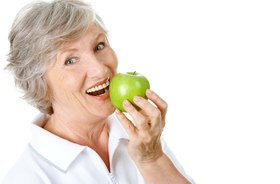 Some of the top benefits of All-on-4 include:
An All-on-4 denture is much sturdier than a traditional, non-implant prosthetic. In fact, you can look forward to enjoying virtually any food without taking special precautions.
We carefully design All-on-4 dentures to look good with each patient's natural facial characteristics.
Fast treatment. The All-on-4 process tends to be quicker than traditional implant treatments.
An All-on-4 denture is permanently fixed in your mouth, so you can care for it almost exactly like you would care for natural teeth.
Jawbone preservation. Dental implants prevent much of the jaw deterioration that occurs after the loss of natural teeth.
All-on-4 vs. Traditional Dental Implants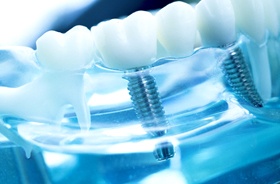 All-on-4 is usually faster, less costly, and less invasive than traditional dental implant treatments. It also typically requires just one surgery, while traditional treatments usually require two or more. With all of that being said, though, there are some circumstances in which traditional implants would be a better option. For example, a denture that is supported by six or more dental implants may provide a higher level of strength and stability. Your implant dentist in Auburn will carefully evaluate your oral health and learn about your circumstances before making a treatment recommendation.