Crowns and Bridges – Auburn, ME
Experience Seamless Smile Repair
A badly damaged tooth can make it difficult for you to chew comfortably, and it may lead to persistent pain and infection. If you have one or more missing teeth, you may have to deal with a number of daily struggles, including an uncomfortable bite and embarrassment over your smile's appearance. A dental bridge or crown may be able to correct such issues and enable you to have the heathy, strong, and attractive smile that you deserve.
Dental Crowns
Dental crowns in Auburn are custom-made caps that are placed over the entire visible portion of a tooth (everything about the gum line). They can be crafted out of gold, silver, or other materials, but many patients prefer metal-free crowns due to their cosmetic advantages. Indeed, a porcelain crown is quite strong and closely resembles natural tooth enamel, allowing for practically unnoticeable smile restoration.
Crowns can serve a number of important purposes, including:
Protect a tooth following a root canal
Fortify a tooth that has a large filling
Reduce pain in sensitivity in a severely worn-down tooth
Improve the appearance of a misshapen tooth
Restore a dental implant to replace a missing tooth
Support a dental bridge
Dental Bridges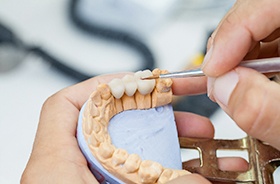 Dental bridges in Auburn are designed to replace one or more missing teeth. A traditional bridge consists of two crowns, which get placed on top of the teeth next to the empty space (the abutment teeth). One or more artificial teeth goes between the crowns to fill in the gap. Bridges are a popular tooth replacement option because they are sturdy and provide a strong bite force. They also have the potential to last for several years, and they can be quite natural-looking.
In addition to traditional bridges, we can also provide implant-supported bridges. Rather than relying on abutment teeth for support, these restorations gain all of their strength from artificial tooth roots that are placed beneath the gum line.
The Crown and Bridge Process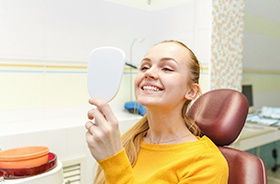 When we're placing non-implant-supported crowns or bridges, the first step in the procedure is to prepare the teeth that will receive the crowns. We may have to remove some of the enamel or fill a tooth in a bit so they will fit well beneath the restorations. Then, we take detailed impressions of the teeth and the surrounding area.
In many cases, we are able to use CEREC technology to create a crown or bridge right away, without sending a patient's impressions to a third-party dental lab. In other cases, the patient must wear a temporary restoration until a laboratory fabricates a permanent one and sends it back to our office. When the crown or bridge is ready, we permanently attach it to the tooth (or teeth) using a special dental cement.
Following your procedure, you may notice some extra sensitivity in the area that receive the restoration. That is normal and should subside within a week or two.
Do you believe you could benefit from a crown or bridge? Contact our office to schedule your restorative dentistry consultation.