Teeth Whitening – Auburn, ME
Make Your Smile Glow
Teeth are not naturally white. Add to that the fact that daily eating and drinking can stain your enamel, and you could easily end up with a smile that is not as bright as you wish. Our team is here to help with professional teeth whitening in Auburn. Our powerful and fast whitening options can make your teeth several shades lighter in a short period of time. Get in touch today to schedule your cosmetic consultation.
Why Choose Willow Run Dental Association for Teeth Whitening?
In-Office and Take-Home Whitening Available
More Powerful than OTC Options
Achieve a More Confident Smile
Who Is a Good Candidate for Teeth Whitening?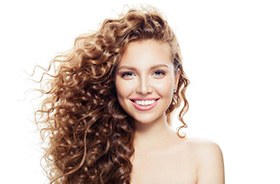 Teeth whitening treatments are able to address most extrinsic (in the enamel) stains in teeth. For example, it can help to reverse discoloration caused by overconsumption of coffee, red wine, and highly pigmented foods. It can also help to brighten teeth that have become darkened due to tobacco use. It is less effective for intrinsic stains (in the dentin, the second layer of teeth). Your cosmetic dentist in Auburn will let you know whether whitening would work for your unique case.
How Does Teeth Whitening Work?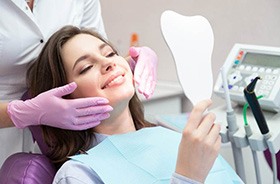 Teeth whitening uses a powerful bleaching formula that penetrates the tooth enamel and breaks up pigment molecules, resulting in a brighter smile. Professional treatments are customized to meet a patient's unique needs. Depending on your preferences and circumstances, we might recommend that you either undergo an in-office ZOOM! whitening session or purchase a ZOOM! take-home whitening kit. Here is an overview of how the different teeth whitening options work:
Take-Home Teeth Whitening
A take home whitening kit uses dental trays that are loaded with a bleaching formula, the concentration of which is tailored to your unique needs. You use the kit as directed, and after about two weeks, you can expect your teeth to be significantly brighter. Professional whitening kits are more powerful than those you can buy over-the-counter.
In-Office Teeth Whitening
If you want to brighten your smile as quickly as possible, in-office whitening may be right for you. We apply a powerful whitening gel to your teeth, and we activate it with a special light. Within an hour or so, this safe and effective treatment has the potential to whiten your teeth by several shades.
Tips for Maintaining Your Brighter Smile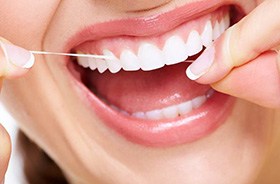 Here are some tips to help the results of your whitening treatment last as long as possible:
For the first 48 hours after an in-office whitening treatment, eat a "white diet." That is to say, you should only eat clear or extremely light-colored foods and beverages.
Maintain excellent oral hygiene.
Avoid smoking and chewing tobacco.
Enjoy dark beverages like coffee and red wine through a straw so they have minimal contact with your teeth.
Visit your dentist every six months for a cleaning and checkup.