Dentures – Auburn, ME
The Simple, Quick Way to Replace Lost Teeth
If you have suffered extensive tooth loss, you might be thinking about getting dentures to rebuild your smile. You have much to look forward to! This type of dental prosthetic can provide a sturdy bite, natural-looking aesthetics, and numerous other advantages. On this page, you will learn more about dentures, how they work, and how they might be able to help you. When you are ready to talk to an expert about replacing your lost teeth, contact the team at Willow Run Dental Association.
What Are Dentures?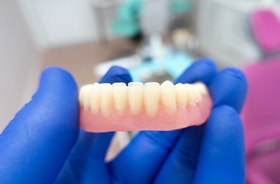 There are a few different types of dentures:
A full denture is a removable prosthetic that consists of a gum-colored base that supports an entire arch of artificial teeth. The teeth are usually made out of acrylic or porcelain. Natural suction or a special type of adhesive helps a full denture to stay in place.
A partial denture replaces multiple teeth at various places throughout a dental arch. Small metal attachments help it to remain secure in the mouth.
An implant-supported denture is anchored in the jawbone via a number of small prosthetic tooth roots.
How Do Dentures Work?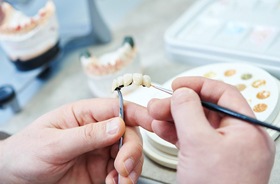 Your process for getting dentures will depend on a few factors, including the extent of your tooth loss and whether you require any preparatory treatment prior to receiving dentures. For example, some individuals must get one or more teeth extracted before they can get dentures.
After your mouth is ready to support dentures, our team will take impressions of your mouth and carefully design your prosthetic teeth. We will pay great attention to detail so that their size, shape, and color complement your natural facial characteristics. After a dental laboratory creates your dentures, we will coach you on how to use them to your greatest advantage.
Indications for Dentures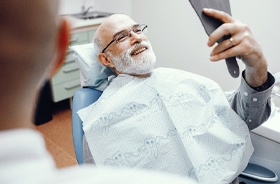 You may be a candidate for dentures if:
You have lost all or most of your natural teeth
Your remaining teeth suffer from constant toothaches or they feel loose
Your gums are red and swollen
You have an old denture that no longer fits well
Benefits of Dentures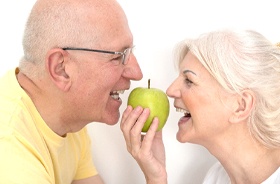 Non-implant dentures come with numerous benefits, including:
They are a cost-effective way to replace many teeth
They can look quite natural
As long as they fit well, they can provide a sturdy bite that enables you to eat most foods
They can last for several years before replacement is necessary
Implant-supported dentures come with even more extensive benefits. For example, their fit will never change. They also support jawbone health.
Understanding the Cost of Dentures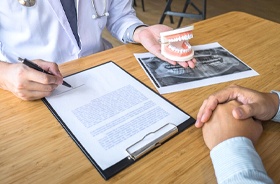 The cost of your denture will depend on which type of prosthetic you receive and other factors. Our team will be sure to give you a frank estimate for the price of your care. We will also help you file insurance claims and explore financing options if necessary. We want to make the process of paying for your denture as stress-free as possible.
Factors that Affect the Cost of Dentures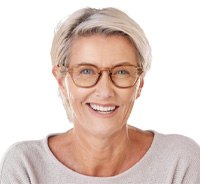 Some factors that affect the cost of dentures include:
Preparatory treatments. Some patients require tooth extractions, gum disease treatment, or other services before they are able to receive dentures.
The base of dentures is usually made out of acrylic, and the teeth are typically constructed out of acrylic or porcelain. The quality of the materials used can affect price.
The type of denture. Full dentures, partial dentures, and implant dentures all come at different price points.
Keep in mind that "bargain" dentures are usually too good to be true. You may end up with a product that you are not satisfied with. It is best to invest in quality care straight from the outset.
Are Implant Dentures More Expensive?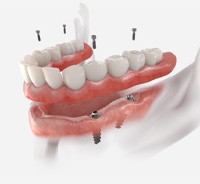 Yes, implant denture cost significantly more than traditional dentures. This is logical because implant dentures require a longer and more complex treatment process, as well as premium materials.
Are implant dentures worth the price? For most patients, yes. They are glad to have the strong bite force and reliable function that is difficult to find with other forms of tooth replacement. Plus, implant dentures last much longer than traditional dentures, which may need to be replaced every 4 – 8 years. In fact, dental implants have the potential to last a lifetime. They are an excellent monetary value.
Does Dental Insurance Cover Dentures?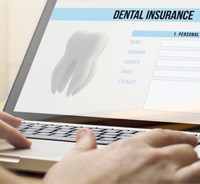 It is common for dental insurance to cover dentures. They are usually categorized as a major service, meaning that around 50% of their price may be covered, up to the amount of a policy's annual maximum. Our practice proudly accepts many forms of insurance, and we are in-network with most major policies. We will be pleased to help you understand your benefits and use them in the most advantageous way possible.
Other Options for Making Dentures Affordable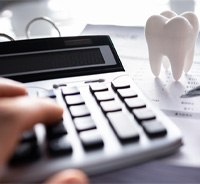 Beyond insurance, there are a few provisions that may make it easier for you to afford your new teeth:
Essential Dental Plan. This discount plan is designed for patients without insurance. Signing up is easy, and you can enjoy reduced fees on virtually all the services available in our practice.
We accept CareCredit, a third-party lender that offers low-interest payment plans for dental services. The application process is fast, and most patients are approved for an affordable installment arrangement.
Would you like to learn more about dentures and their cost? Contact our Auburn, ME, dental practice today to schedule your consultation. We are eager to serve you!
Denture FAQs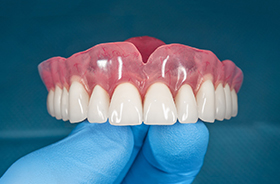 Are you thinking about getting dentures? Our Auburn dental team is ready to help you through the process of rebuilding your smile. In the meantime, you may want to learn more about the road ahead. To assist you, we have put together the following list of frequently asked questions regarding dentures. If you do not see the specific information you were looking for, feel free to reach out to us directly.
How Long Will You Have to Wait to Get Dentures After Your Teeth Are Pulled?
There are a few different possibilities:
If you get immediate dentures, your prosthetic will be prepared before your teeth get extracted. You will be able to start using it right away after tooth removal. However, it will need more frequent adjustments than a conventional denture.
If you get conventional dentures, you may need to wait 6 – 8 weeks after your extractions before you get your new teeth. This waiting period gives the gums times to heal.
If you get traditional implant dentures, it could be several months before your new smile is complete. You will have to wait while your prosthetic tooth roots bond with your jawbone.
If you choose All-on-4 implant dentures, you will receive a provisional denture on the same day as your extractions and your implant placement surgery.
What Is the Average Age for Dentures?
Tooth loss is much more common among older individuals. A census conducted by the American Dental Association found that nearly 57% of people aged 65 – 74 wear some form of denture. Of course, there is no shame in getting dentures much earlier than that. Due to trauma, genetics, disease, or other factors, some people as young as their 20s or late teens require tooth replacement.
Will It Hurt to Get Dentures?
If you have to undergo tooth extractions prior to getting dentures, you can expect some soreness after your procedure. Using pain medication and getting plenty of rest should help to take the edge off of your discomfort.
When you first receive your new teeth, some irritation and tenderness are normal. After an adjustment period, which may take a few months, you can expect your prosthetic to fit comfortably. If it ever causes any severe pain or irritation, you should ask your dentist for guidance.
Can I Sleep with My Dentures?
When you first get your dentures, you may be directed to wear them continuously for the first 24 hours. Thereafter, though, you should remove them each night. This allows your gums to rest and provides an opportunity for you to thoroughly clean your prosthetic. You can thereby reduce your risk of sores, bad breath, infections, and other problems.
If you would like to have your teeth in your mouth 24/7, ask your denture dentist if you are a candidate for implant dentures.