Dentures – Auburn, ME
The Simple, Quick Way to Replace Lost Teeth
If you have suffered extensive tooth loss, you might be thinking about getting dentures to rebuild your smile. You have much to look forward to! This type of dental prosthetic can provide a sturdy bite, natural-looking aesthetics, and numerous other advantages. On this page, you will learn more about dentures, how they work, and how they might be able to help you. When you are ready to talk to an expert about replacing your lost teeth, contact the team at Willow Run Dental Association.
What Are Dentures?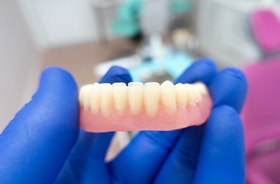 There are a few different types of dentures:
A full denture is a removable prosthetic that consists of a gum-colored base that supports an entire arch of artificial teeth. The teeth are usually made out of acrylic or porcelain. Natural suction or a special type of adhesive helps a full denture to stay in place.
A partial denture replaces multiple teeth at various places throughout a dental arch. Small metal attachments help it to remain secure in the mouth.
An implant-supported denture is anchored in the jawbone via a number of small prosthetic tooth roots.
How Do Dentures Work?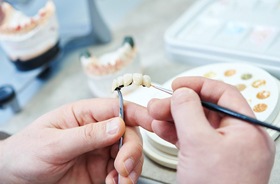 Your process for getting dentures will depend on a few factors, including the extent of your tooth loss and whether you require any preparatory treatment prior to receiving dentures. For example, some individuals must get one or more teeth extracted before they can get dentures.
After your mouth is ready to support dentures, our team will take impressions of your mouth and carefully design your prosthetic teeth. We will pay great attention to detail so that their size, shape, and color complement your natural facial characteristics. After a dental laboratory creates your dentures, we will coach you on how to use them to your greatest advantage.
Indications for Dentures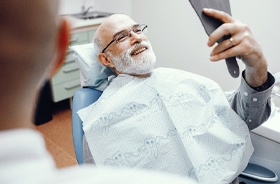 You may be a candidate for dentures if:
You have lost all or most of your natural teeth
Your remaining teeth suffer from constant toothaches or they feel loose
Your gums are red and swollen
You have an old denture that no longer fits well
Benefits of Dentures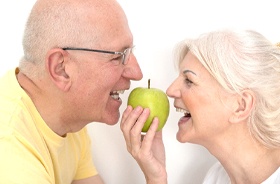 Non-implant dentures come with numerous benefits, including:
They are a cost-effective way to replace many teeth
They can look quite natural
As long as they fit well, they can provide a sturdy bite that enables you to eat most foods
They can last for several years before replacement is necessary
Implant-supported dentures come with even more extensive benefits. For example, their fit will never change. They also support jawbone health.
Cost of Dentures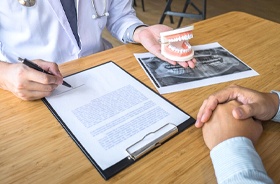 The cost of your denture will depend on which type of denture you receive. Implant-supported dentures cost more than their traditional counterparts, but they last much longer. A full denture logically costs more than a partial denture. The materials used to fabricate the denture also play a role in the final cost. Our team will be sure to give you a frank estimate for the price of your prosthesis. We will also help you file insurance claims and explore financing options if necessary.