Dental Crowns – Auburn, ME
Experience Seamless Smile Repair
A badly damaged tooth can make it difficult for you to chew comfortably, and it may lead to persistent pain and infection. A dental crown may be able to correct such issues and enable you to have the healthy, strong, and attractive smile that you deserve. Would you like to learn more about this form of seamless smile repair? Read this page to get an overview of dental crowns, and then contact our Auburn office when you are ready to book a restorative consultation.
Why Choose Willow Run Dental Association for Dental Crowns?
Lifelike Porcelain Restorations Available
Compassionate & Empathetic Dental Team
Long-Lasting, Highly Functional Results
What Is a Dental Crown?
Dental crowns are custom-made caps that are placed over the entire visible portion of a tooth (everything above the gumline). They can be crafted out of gold, silver, or other materials, but many patients prefer metal-free crowns due to their cosmetic advantages. Indeed, a porcelain crown is quite strong and closely resembles natural tooth enamel, allowing for practically unnoticeable smile restoration.
Crowns can serve a number of important purposes, including:
Protecting a tooth following a root canal.
Fortifying a tooth that has a large filling.
Reducing pain and sensitivity in a severely worn-down tooth.
Improving the appearance of a misshapen tooth.
Restoring a dental implant to replace a missing tooth.
Supporting a dental bridge.
The Process of Getting a Dental Crown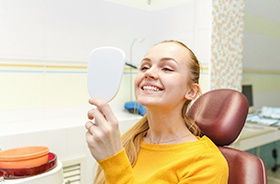 The dental crown process starts when we prepare the tooth that will receive it. In many cases, this means we have to remove a portion of its enamel. Once that step is complete, we will take impressions of your mouth and send those impressions to the lab that will fabricate the restoration. While the lab is busy working, you will wear a temporary crown for a few weeks to protect your prepared tooth.
When the permanent crown is ready, you will return to our office so we can verify that it fits well and looks good. If it passes our rigorous quality test, we will secure it onto your tooth.
The Benefits of Getting a Dental Crown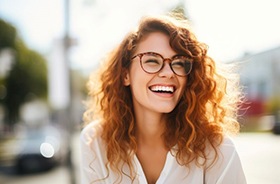 After you receive a dental crown, you may experience a number of worthwhile benefits:
Crowns can renew the strength of damaged teeth.
Often, crowns can prevent the need for an extraction.
You may experience reduced oral pain and sensitivity.
Porcelain crowns look incredibly natural — no one may ever notice that you needed some restorative care for your smile.
Crowns are easy to care for; you can use the same best practices that apply to natural teeth. For example, you should stick to a thorough oral hygiene routine.
With proper maintenance, a crown has the potential to last for 10 – 15 years or longer.