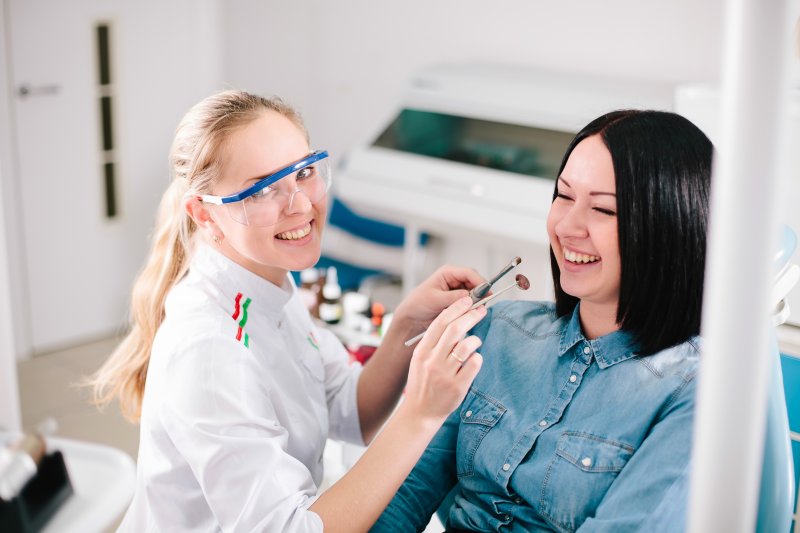 What does saving money look like to you? Is it cooking meals at home instead of going out to eat? Is it keep your home colder during the winter months to avoid high energy bills? Or is it forgoing regular dental visits because you think they cost too much and are "unnecessary?" No matter your reasoning for avoiding professional checkups, the truth is that you might be putting your smile at greater risk as well as your wallet in doing so. If you want to save money, consider how visiting your dentist and using your dental insurance might be the answer.
You Pay Little-to-Nothing for Preventive Care
It might seem hard to believe, but the regular six-month dental checkups and cleanings you receive are often covered at 100% by your dental insurance company. These visits include a comprehensive checkup, digital X-rays, and a professional cleaning – the type of care that, without insurance, can be estimated at a few hundred dollars. However, in choosing to use your plan, you can be proactive about your oral health by allowing a dentist in Auburn to check for any signs of decay, cavities, gum disease, oral cancer, and even bite misalignment, helping to keep your smile in good shape year after year.
Pursuing preventive care will also help you to keep more money in your wallet because you won't need to worry about coming up with the money for restorative or emergency dental treatments.
Catching Problems Early Means Reduced Spending
When comparing the cost of a root canal to that of a dental filling, it's easy to see why the latter is less expensive. But better yet, preventive dental exams and cleanings can catch problems early on so that even restorative care may not be necessary. When meeting with your dentist, if they discover that your gums appear swollen or bleed when flossing, you may be in the early stages of gingivitis. This can be easily treated with regular cleanings and good oral hygiene habits practiced at home. This can be huge savings, as you can avoid the cost associated with periodontal therapy, which often includes scaling and root planing.
While dental insurance is likely to cover restorative treatments anywhere from 50-80%, taking a proactive approach to your oral healthcare can put you in a better position to avoid costlier treatments in the future.
Your Overall Health Will Thank You
Many of the most common overall health problems are linked to issues that form inside the mouth. Gum disease, tooth decay, infections, and inflammation can all be tied back to various conditions, some of which include diabetes, heart disease, negative cognitive decline, kidney problems, respiratory issues, poor gut health, and more. If you're left to battle any one of these conditions, you'll be required to pay thousands of dollars over time as a result of needing to maintain appointments with a medical doctor to discuss your diagnosis and management.
Many patients may not feel as if seeing the dentist regularly is worth the time or money, but you can rest assured that by keeping your twice-yearly appointments, you'll enjoy a healthier smile that doesn't require frequent or expensive care.
About the Practice
Dr. Scott Beckerman, Dr. Ashley Brubaker, Dr. Noor Alnoori, and Dr. Mary Pineda lead the team of expert professionals at Willow Run Dental Association. Committed to excellence and ensuring a comprehensive approach to dentistry, we strive to provide safe, affordable dental care to all patients. When someone arrives in our office who has dental insurance, our team will work hard to identify ways to maximize their benefits and help them spend less out of pocket. Visit our website or call us to learn more about how we can help patients save big on regular dental care.