Single Tooth Implants – Auburn, ME
Fill the Gap and Prevent Future Dental Problems
Many people choose not to replace their single missing tooth. They may believe it is not worth the time or money it takes to receive a prosthetic to fill in the empty space. However, they are making a serious mistake. Over time, even a single missing tooth can lead to serious consequences. For example, the bone that once supported the tooth will begin to deteriorate, and the adjacent teeth may drift out of place. Eventually, further tooth loss could occur. At Willow Run Dental Association, we offer treatment options that can replace a lost tooth and prevent such future dental problems.
Single Tooth Replacement Options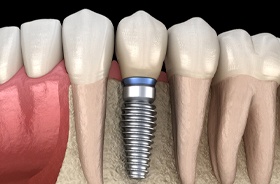 There are two ways in which our team can replace a single missing tooth:
Fixed bridge. A fixed bridge, sometimes called crown and bridgework, is a dental prosthesis that relies on the remaining natural teeth for support. Two crowns get placed over the teeth that are adjacent to the empty space (the abutment teeth). The crowns support an artificial tooth between them, which "bridges" the gap. A fixed bridge can be quite sturdy and restore full dental function. Depending on the material use to make it, it can even be very natural-looking. Many individuals choose this treatment option because it is reliable, quick, and relatively affordable.
Single tooth dental implant. A dental implant is a small cylinder, made out of a titanium alloy, that replaces the root of a missing tooth. We insert the implant into the jawbone and closes the gum tissue over it. Thereafter, the implant bonds with the bone around it in a process called osseointegration. After osseointegration, our team places a custom-made crown on top of the implant to replace the visible portion of the lost tooth.
The Benefits of Implant-Supported Single Tooth Replacement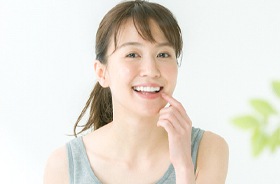 Either a fixed bridge or a dental implant can provide adequate tooth replacement. However, we often recommend dental implants as the superior solution for a number of reasons:
Protection for natural teeth. Placing a fixed bridge requires that we modify the abutment teeth by removing a significant portion of their enamel. Because an implant is self-supporting, there is usually no need to do anything at all to the neighboring teeth.
Bone preservation. An implant stimulates the jawbone and prevents it from deteriorating. A fixed bridge does not promote bone health.
Natural feel and function. Because a dental implant so closely mimics the structure of a natural tooth, it provides the most natural feel and function possible.
With proper care, a dental implant may last for 30 years or longer. A fixed bridge may last for only 10 years or so.
Simple maintenance. You can care for a dental implant in almost exactly the same way as you would care for a natural tooth.
Contact Willow Run Dental Association Today
Are you ready to replace your lost tooth and thereby experience improved dental function and a lower risk of oral health complications? To learn more about our single tooth replacement services, contact Willow Run Dental today.