Missing Multiple Teeth —Auburn, ME
The Best Way to Say Goodbye to Gaps
Most types of tooth replacement only replace the top portion of teeth — the part that you can see above the gum line. While such prosthetics have their advantages, they fall short of what dental implants can offer because dental implants replace teeth from the roots up. If you are missing multiple teeth, we encourage you to read the following information about your tooth replacement options.
Non-Implant Tooth Replacement Options
If you choose not to receive dental implants, you might instead receive one of the following types of prosthetics:
Fixed bridge, sometimes called crown and bridge. A fixed bridge consists of two crowns, which get placed on top of the teeth adjacent to an empty space (the abutment teeth). The crowns can support 1 – 3 pontics (prosthetic teeth) between them.
Partial denture. A partial denture is a removable prosthetic that can replace multiple teeth at various places throughout a dental arch. Small metal attachments help it to stay in place.
Full denture. A full denture is a removable prosthetic that replaces an entire arch of missing teeth. It has a gum-colored base that supports acrylic or porcelain teeth. Full dentures are sometimes recommended for patients who have already lost all of their natural teeth, or whose natural teeth will soon need to be extracted.
The Dental Implant Process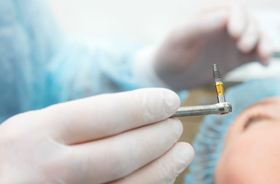 The process for designing the above-listed types of prosthetics is fairly quick and may be complete in a matter of weeks. Dental implants take significantly more time, but they are worth it! The process begins with a minimally invasive surgery, wherein small prosthetic tooth roots (the dental implants) get inserted into the jawbone at precise, pre-planned positions. During the procedure, an expert creates small incisions in the gums before making space in the bone for the dental implants. After the implants are in place, the incisions are closed. Then, during a months-long process known as osseointegration, the implants and the surrounding tissue fuse together. After osseointegration, our team will design a custom bridge or denture to attach to the implants.
Benefits of Implant-Retained Dental Prosthetics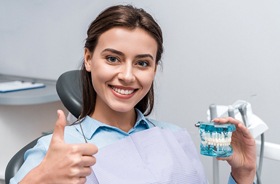 Implant-retained dental prosthetics offer numerous advantages over their traditional counterparts:
They replace both the roots and crowns of missing teeth.
They promote jaw health. Dental implants stimulate the bone around them and help to keep it whole and strong.
They are self-supporting, which means that it is not usually necessary to modify the nearby teeth in any way. This is in contrast to a fixed bridge, which requires that the supporting teeth be filed down in order to fit beneath their crowns.
They provide outstanding comfort and stability. No foods are off-limits with dental implants. Unlike traditional dentures, they will never slip out of place during eating and speaking.
They have the potential to last a lifetime if they receive proper care. Traditional prosthetics usually just last for 5 – 10 years or so before replacement becomes necessary.
Learn More
Are you ready to talk to an expert about rebuilding your lost dentition? Contact us today to schedule your FREE dental implant consultation.