Benefits of Dental Implants – Auburn, ME
Discover the Best in Tooth Replacement
Dental implants are often regarded as the best tooth replacement solution that modern dentistry has to offer. But why is that the case? On this page, you will discover some of the most outstanding ways in which dental implants can improve a patient's quality of life. When you are ready to schedule your dental implant consultation and learn how this treatment may benefit you personally, contact the team at Willow Run Dental Association.
Look & Feel Your Very Best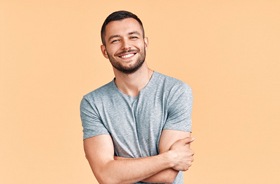 Once dental implants are surgically placed beneath the gum line and restored with a crown, bridge, or denture, they become virtually invisible. The restorations themselves are carefully designed to complement each patient's unique oral anatomy and facial aesthetics. Their color, shape, and size are all chosen with the greatest attention to detail. Dental implants also feel very comfortable in the mouth. You may even feel like you have your natural teeth back!
Eat All Your Favorite Foods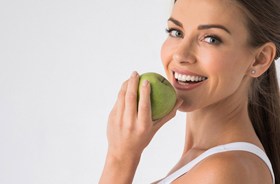 Some traditional types of tooth replacement require that you be extra careful when you eat certain foods. You might even have to avoid some foods altogether. That is because there is a risk that the prosthetic will slip out of place or become destabilized. However, because dental implants are anchored in the jawbone, they are extremely sturdy. You will not have to take special precautions when you are enjoying your favorite foods, whether you are munching on a crisp apple, indulging in a juicy steak, or snacking on popcorn during your family's movie night.
Speak, Chew, & Smile with Confidence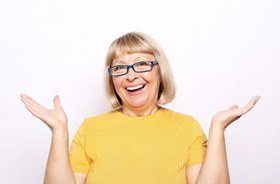 Traditional dentures may slip out of place during eating and speaking, particularly if they do not fit well. The fit of your dental implants will never change; that is because they bond with the bone around them and act as substitutes for the roots of lost teeth. As long as you take good care of your implants, you can expect them to provide you with decades of confidence when you are speaking, laughing, eating, and smile.
Keep a Healthy, Happy Smile for a Lifetime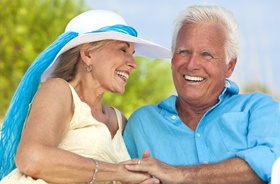 Dental implants are designed to last a lifetime. If you care for them well through excellent oral hygiene and routine dental appointments, it is very likely that they will never disappoint you. The longevity of dental implants may even make them a better financial value than tooth replacement options that have to be replaced every 5 – 10 years or so.
Quickly & Easily Clean Your New Smile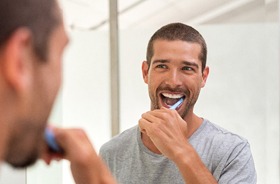 Caring for dental implants is easy. In fact, you can treat them in almost the same way as you would treat your natural teeth. It is important to brush twice a day with a soft-bristled brush and low-abrasive toothpaste, floss once a day, and attend regular checkups with your dentist. Depending on the type of prosthetic you have, you may have to take a few additional steps to care for your new teeth, but you can still expect it to be easy to adapt to your routine of maintaining your implants and their restorations.