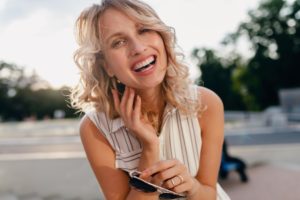 Nearly everyone wants a bright, white smile. Unfortunately, the daily consumption of things like coffee, red wine, and berries can quickly lead to new dental stains. While some over-the-counter products can help you slightly brighten your teeth, professional treatments tend to deliver more dramatic results. However, some people hold back from asking their dentist about whitening because they are concerned about cost. If that is true of you, we invite you to visit Willow Run Dental Association. Right now, we are offering FREE teeth whitening kits to eligible new patients. Read on below to learn more about this limited-time offer.
How to Claim Your Teeth Whitening Kit
Call our practice, and let us know that you are interested in free whitening. We will schedule a cleaning and exam appointment for you.
When you arrive for your appointment, we will warmly welcome you and make sure that your paperwork is in order. Then, we will escort you farther into our office, where we will take some X-Rays and perform a thorough examination. If we find any oral health issues, such as cavities or gum disease, we will let you know what steps we recommend to address the problem.
Your appointment will also include some time with one of our talented hygienists. They will thoroughly clean and polish your teeth, using special instruments to remove plaque and tartar accumulation. They might additionally offer some friendly advice on how you can take the best possible care of your smile at home.
When your appointment concludes, you will receive your free whitening kit. Its trays will be pre-loaded with a powerful formula; all you have to do is use them according to the instructions, and you can expect to see significantly brighter teeth within just a few weeks.
Important Details

Here are a few key details to keep in mind about this special whitening offer:
It is only for new patients. We love and appreciate our existing patients. However, our free whitening offer is limited to those who have not visited us before.
You must attend a cleaning and checkup. Complimentary consultations, cancellations, and no-shows are not eligible for free whitening. If you wish, you may combine this offer with our regular new patient special, which offers a discount on a cleaning, exam, and X-Rays.
Not everyone should whiten their teeth. Some oral health conditions make it unwise to whiten the teeth. If that is true in your case, you may become eligible for whitening after some restorative treatment.
You have a limited time to take advantage of this offer. Our free teeth whitening promotion expires on July 31, 2022. We encourage you to book your appointment as soon as possible so you can secure your spot.
Professional teeth whitening does not have to be expensive. In fact, thanks to our special promotion, you may be able to enjoy it for FREE!
Meet the Practice
The dentists at Willow Run Dental Association are proud to offer a range of preventive, restorative, and cosmetic treatments in a welcoming environment. To learn more about us and our current promotions, give us a call at 207-352-2825.