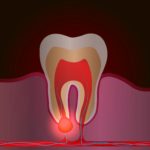 A toothache in Auburn can be one of the most annoying and distracting problems you could experience. Not only can it make it difficult for you to eat, but it can also distract you from work, make you irritable, and prevent you from sleeping. Therefore, if a monstrous toothache suddenly disappears, your first inclination might be to celebrate. However, you could be on the fast track to a future dental emergency! This blog post discusses why a disappearing toothache usually signals a big problem.
Why Might a Toothache Disappear?
Teeth are a unique part of the human body because they are unable to heal themselves from significant damage. Therefore, if a toothache disappears, it is not because your tooth suddenly recovered. There are only a few explanations for why your pain might vanish:
The tooth was never damaged. In some cases, gum injuries or sinus inflammation can feel like a toothache even if the tooth itself is perfectly healthy. As the original problem heals, the toothache may subside.
The nerve inside the tooth died. A nerve inside a tooth is responsible for sending pain signals to the pain. When it dies, either due to infection or injury, you may experience sudden relief from a toothache.
A Dead Tooth Requires Prompt Care
If the nerve inside the tooth dies, the infection that originally caused the toothache may still be present. It could continue to spread into nearby tissues. Eventually, it could seriously damage your gums, jawbone, or the surrounding teeth. It may even spread throughout your body and lead to systemic illness.
In rare cases, a systemic infection that begins as a toothache can lead to a severe medical emergency. Some individuals have even died because they did not seek prompt care for a toothache.
How Your Dentist Can Help
Ideally, you should call your dentist before your toothache disappears. They can help you find fast pain relief and take steps to prevent an infection from becoming widespread. However, if your toothache recently disappeared, it is extra-urgent for you to seek professional care. This is especially true if your toothache was severe, and it was accompanied by throbbing pain or noticeable changes to a tooth's appearance (for example, if a tooth became darker than the ones around it).
Your dentist will examine your mouth and recommend your next steps. Often, the best way to address a tooth infection is root canal therapy and antibiotics. In some cases, though, removing the tooth altogether is the best course of action.
A toothache that suddenly disappears is usually not a good thing. Seeking timely professional care could save your tooth and perhaps even save your life!
Meet the Practice
The experts at Willow Run Dental Association are proud to offer preventive, restorative, and emergency care in a comfortable setting. Our team makes efforts to see urgent cases as soon as possible, so do not hesitate to contact us if you are struggling with a toothache or have other concerns about your oral health. Give us a call at 207-352-2825.