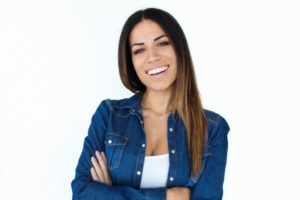 Veneers are one of the most powerful ways to transform your smile. If you decide to invest in them, it is understandable if you want to achieve your final results as quickly as possible. However, before you reach that point, you will need to wear temporary veneers for a while. They are an important part of your cosmetic journey! This blog post discusses some of the purposes they serve and what you can expect while you are wearing them.
Protect Your Prepared Teeth
The standard veneers process requires a cosmetic dentist to remove a bit of enamel from the teeth. Usually, the amount they take away is less than the width of a contact lens. This ensures that the veneers will not make your smile look unnatural or bulky. The downside to this preparatory step is that it can make your teeth quite sensitive.
Temporary veneers provide valuable protection for your prepared teeth. They can protect them from the sharp sensations caused by hot and cold foods while you are waiting for a dental laboratory to fabricate your permanent veneers.
Preserve Aesthetics
Generally speaking, individuals who purchase veneers are very image conscious. Teeth that have been prepared for veneers may look somewhat strange, which could adversely affect your confidence. Your dentist does not want you to dislike your smile at any point during your cosmetic journey, so they will provide temporary veneers to give you an attractive appearance while you are waiting for your permanent ones.
Test Driving Your New Look
Permanent veneers typically last for 10 years or longer; you should be happy with their design from the get-go! Temporary veneers give you the opportunity to "test drive" your new look. Carefully consider their shape, size and color while you are wearing them. If all the details of their appearance are to your liking, that is wonderful. However, if anything about them is not quite satisfactory, whether it is an aesthetic aspect or they have an impact your speech, be sure to let your dentist know. They will incorporate your feedback into the design of your permanent veneers.
What to Expect with Your Temporary Veneers
Because temporary veneers are less durable than their permanent counterparts, you will have to take a few extra precautions while you are wearing them. For example, they might incur stains, so it would be best to limit your intake of dark foods and beverage. It would also be wise to avoid sticky foods; since temporary veneers are supposed to be easy to remove, such foods might cause them to come off before their appointed time.
Temporary veneers serve several important purposes. If you have questions about them, your cosmetic dentist would be happy to speak with you.
Meet the Practice
The dentists at Willow Run Dental Association are proud to offer a range of cosmetic treatments, including veneers, in a welcoming and comfortable environment. If you would like to know more about what to expect as you are enhancing your smile, our team is ready to answer your questions. Contact us at 207-352-2825.